HKSEC Academy: HKSEC 2021-22 Award Ceremony cum HKSEC Judge's Sharing
HKSEC Academy: HKSEC 2021-22 Award Ceremony cum HKSEC Judge's Sharing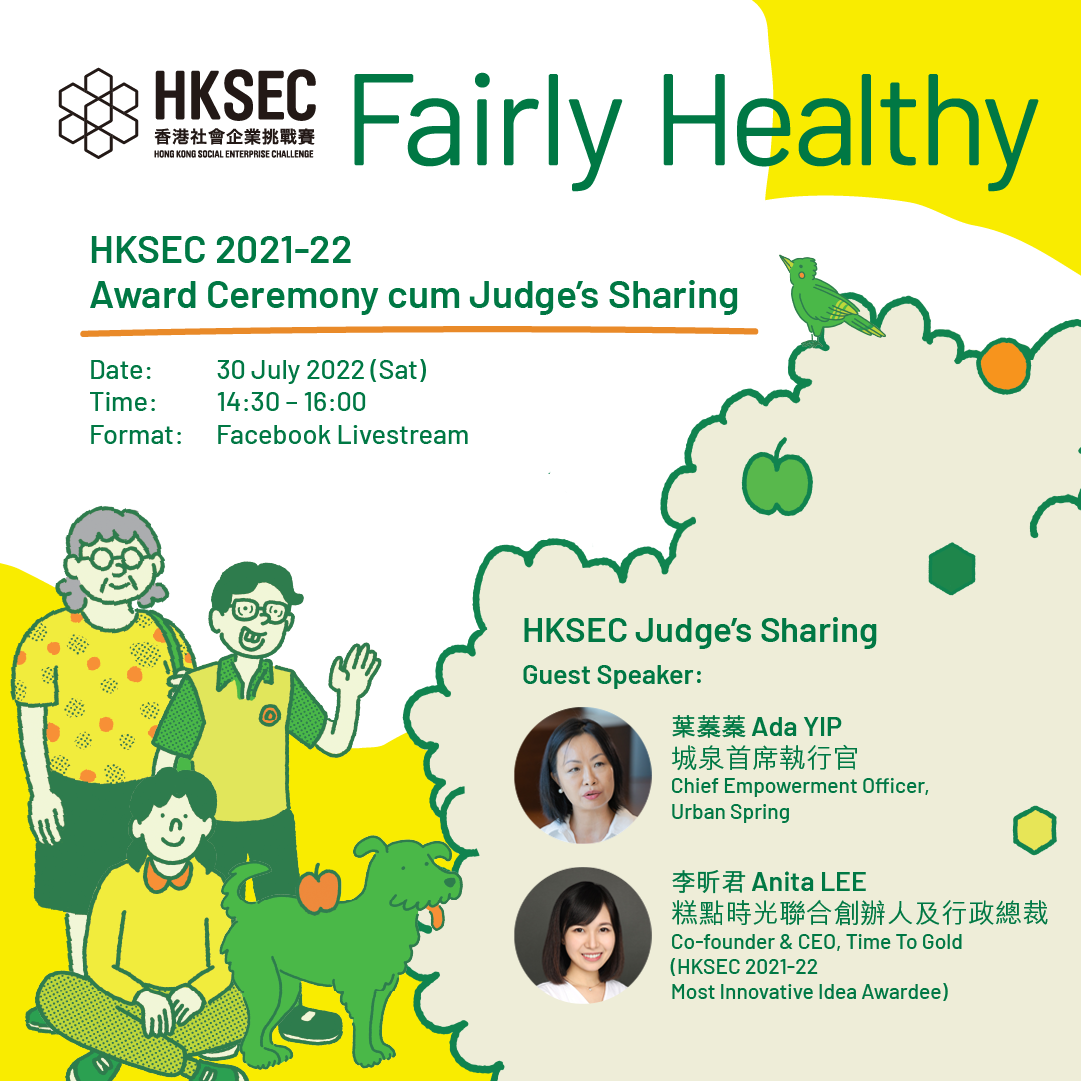 The HKSEC Academy aims to support the growth and professional development of HKSEC alumni and other young social innovators. In this series of 12 webinars, the participants would be able to update their knowledge and deepen their understanding in wide ranging topics such as Fintech, Social Impact Measurement and Climate Change etc. This knowledge as well as skills could further equip them for their social innovation and entrepreneurship journey.
The 7th webinar "HKSEC 2021-22 Award Ceremony cum Judge's Sharing" given by Ada Yip, Chief Empowerment Officer of Urban Spring and Anita Lee, Co-founder & CEO of Time To Gold, would take place from 15:15 to 16:00 (whole event: 14:30 to 16:00) via Facebook Livestream on 30 July 2022.
Ada and Anita will share their experience as a judge and as a participant respectively. Key tips of initiating and sustaining start-ups from the perspectives of both a mature and a younger start-ups will be explored and discussed. Stay tuned to the interesting and fruitful discussion!
We can't wait to see you at the webinar! Click here to register now:
▶▶ https://cloud.itsc.cuhk.edu.hk/mycuform/view.php?id=1553746
Session 7 : HKSEC 2021-22 Award Ceremony cum HKSEC Judge's Sharing
Date: 30 July 2022 (Sat)
Award Ceremony: 14:30 – 15:10
Judge's Sharing Session: 15:15 – 16:00
Format: Facebook livestream
Language: Cantonese & English
Speakers:
Ada YIP | Chief Empowerment Officer, Urban Spring Co., Ltd.
Ms Ada Yip is the Chief Executive Officer of Urban Spring, a purpose-driven startup with a mission to reduce the consumption of single-use plastic bottles through building a network of well-designed and well-maintained water refill stations. She is also a director of WYNG 43 Social Investment which invests in financial and human capital in early stage mission-driven companies . Prior to these ventures, she was the Program Director of the i2i (incubation to investment) program at SOW Asia. She sits on the board of Social Value International and the Hong Kong Institute of Social Impact Analysts. She is a member of the Advisory Committee on Enhancing Employment of People with Disabilities under the Social Welfare Department of the Hong Kong Government. She was born and brought up in Hong Kong and has been fully dedicated to supporting impact business since 2013. Prior to embarking on this journey, she worked at a number of international financial institutions in Toronto, Tokyo, and Hong Kong.
Anita LEE | Co-founder & CEO, Time To Gold
Time To Gold is a social enterprise dedicated to preserving local traditional cake culture and empowering golden aged women. We produce traditional cakes and pastry through developing women skills, capacity and providing them a sustainable livelihood. Now it is "Time To Go"!