HKSEC Academy: Fintech and the Future of Social Innovation
HKSEC Academy: Fintech and the Future of Social Innovation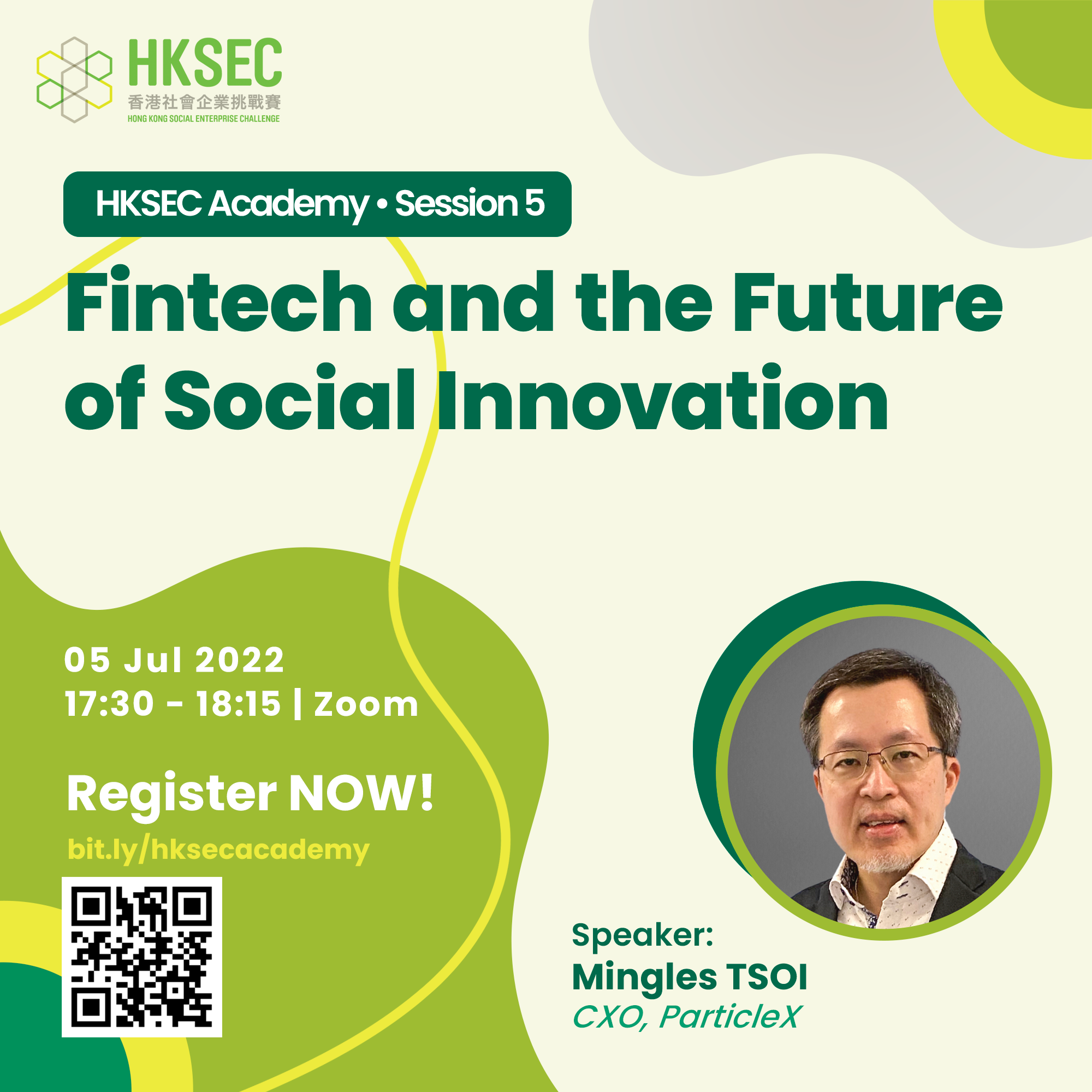 The HKSEC Academy aims to support the growth and professional development of HKSEC alumni and other young social innovators. In this series of 12 webinars, the participants would be able to update their knowledge and deepen their understanding in wide ranging topics such as Fintech, Social Impact Measurement and Climate Change etc. This knowledge as well as skills could further equip them for their social innovation and entrepreneurship journey.
The 5th webinar "Fintech and the Future of Social Innovation" given by Mingles TSOI, Chief eXploration Officer, ParticleX, would take place from 17:30 to 18:15 via Zoom on 5 July 2022.
The session links up two current popular concepts – fintech and social innovation. Mingles will introduce how current fintech could change the future of social innovation and explore why fintech is important for the development of social enterprises (SEs). If you are interested in this hot topic, don't miss your chance to register for this session!
We can't wait to see you at the webinar! Click here to register now:
▶▶ https://cloud.itsc.cuhk.edu.hk/mycuform/view.php?id=1553746
Session 5: Fintech and the Future of Social Innovation
Date: 5 July 2022 (Tue)
Time: 17:30 – 18:15
Format: Zoom
Language: Cantonese
Speaker:
Mingles CHOI | Chief eXploration Officer, ParticleX
Mingles is the CXO (Chief eXploration Officer) of ParticleX, a tech-based startup investor and innovation enabler based in Hong Kong. ParticleX combines network, capital and research resources, accelerating the pace of innovative technology and helping the early-stage startups to win cross-border opportunities across Asia. Prior, he was the Director of Startup & Innovation Services at KPMG China, he played a key role in startup and innovative business consulting services for the region. Mingles is a pioneer in start-ups education. Before joining KPMG, Mingles had been working with the CUHK Center for Entrepreneurship as Project Director for eight years. Some of his major accomplishments including the "Hong Kong Social Enterprise Challenge", the first CU Alumni Entrepreneur Census to investigate the success factors of leading entrepreneurs from local university education and the first Google's Empowering Young Entrepreneur (EYE) Program in Hong Kong.
He currently serves on a number of boards and committees, including Hong Kong Business Angel Network (HKBAN), Cyberport Investors Network (CIN), DIT Committee of the Hong Kong General Chamber of Commerce, HKITIC & HK ProServices Council under the Federation of Hong Kong Industries (FHKI), Lions Club HK IFC, and Hong Kong Institute of Social Impact Analysts (HKI-SIA). He is also the Vice-Chairman of the Startup Council under FHKI, and the Chairman of the Academic and Accreditation Advisory Committee of the Institute of Financial Technologists of Asia (IFTA).