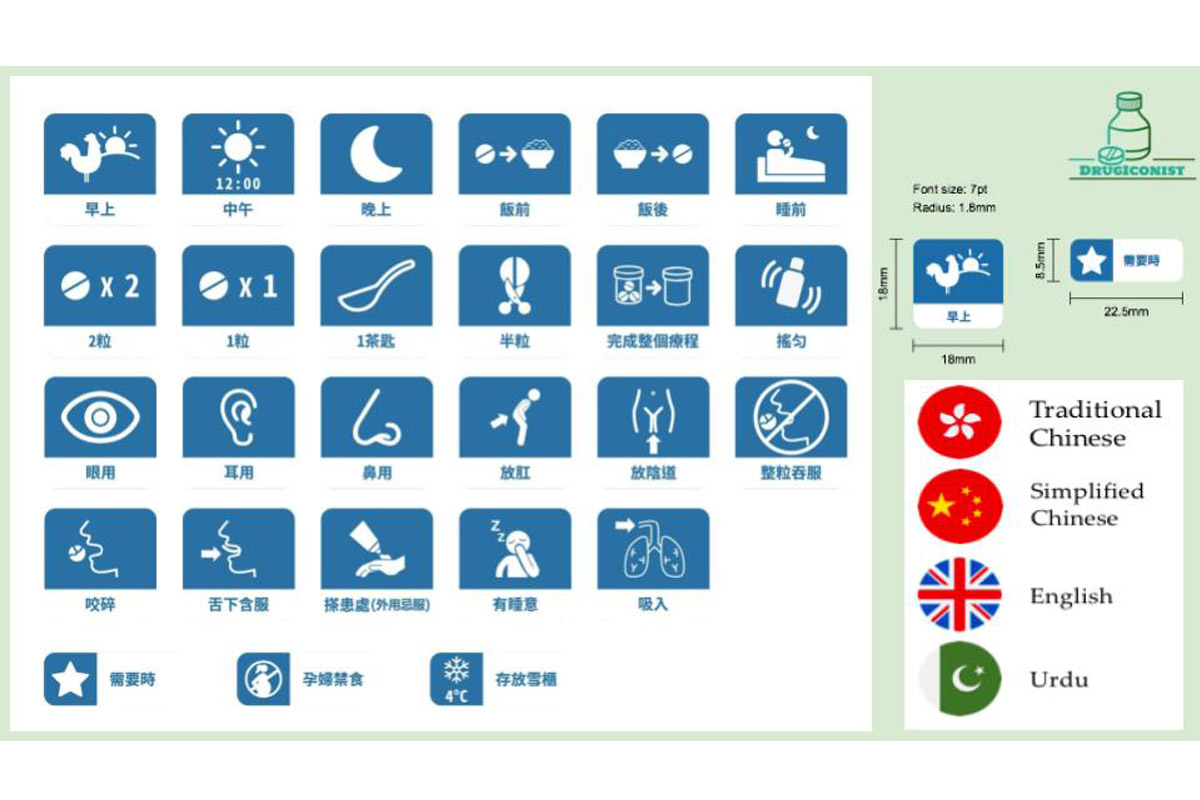 As there is a growing population of people who regularly take drugs, with the elderly commonly taking 5 or more drugs at the same time (known as polypharmacy), drug adherence and compliance have become greatly concerning issues. Unfortunately, current medication labels are often too wordy for patients to read, use small fonts, and only written in Chinese or English. Therefore, this neglects the needs of those who are less able to see, illiterate, or unable to read Chinese or English. As a result, the elderly and ethnic minority groups have difficulty reading and understanding medication and dosage instructions clearly.
The failure to understand medication labels can lead to devastating consequences. People's health may be affected by not achieving the optimal usage of drugs or inducing additional medical burden such as causing adverse drug reactions and prolonging hospitalisation.
DrugIconist aims to create visual icons for common medical instructions and warnings in different languages, including Chinese, English, Urdu and more. Our icons make medication instructions easier to read and will reduce the difficulty in explaining medication warnings. This will go a long way towards increasing safety and accuracy in medication use. Also, we offer consultancy services for drug label implementation and provide promotional materials to facilitate the use and explanation of our icons. We hope that through designing drug icons, people can know more about drug labels and take the right amount of medication, at the right time and in the right manner.

組長
Team Leader
潘蒨瑤
POON Sin Yiu Kirsty (HKU)
組員
Team Member
盧姵君
LO Pei Kwan (Univerisity College London)
陳殷蒨
CHAN Yan Sin (HKBU)
院校顧問
​Faculty Advisor
王潔婷
WONG Kit Ting (HKU)
Website
http://drugiconist.hk