2017-09-06 | South China Morning Post
Shoes made from old bamboo scaffolding, watches created out of soft drinks cans – sustainable fashion is growing in Hong Kong, but designers face an uphill battle to change traditional Chinese views on discarded objects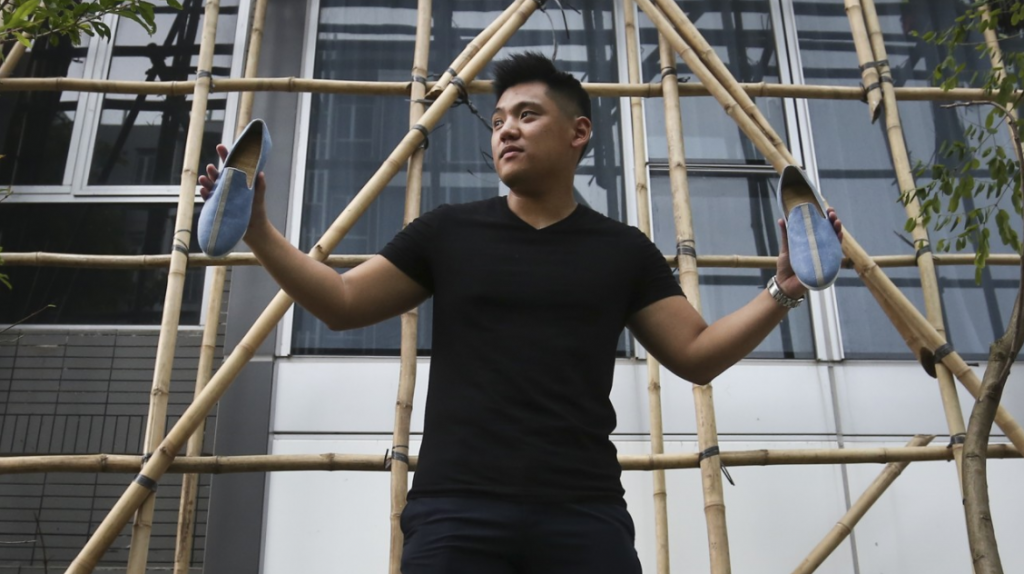 Angus Ko, who turns discarded bamboo scaffolding into shoes, is convinced that sustainable concepts such as wearable waste are the future of fashion. Photo: Jonathan Wong
Bamboo scaffolding has long been an essential component in the building of Hong Kong's spectacular and ever-growing skyline, its intricate webbing scaling the heights of even the tallest skyscrapers under construction. However, of the estimated five million bamboo poles strung up around buildings across the city every year, all will eventually make their way to landfills.
One young Hong Kong entrepreneur is on a mission to change this, giving new life to used bamboo scaffolding by turning it into shoes.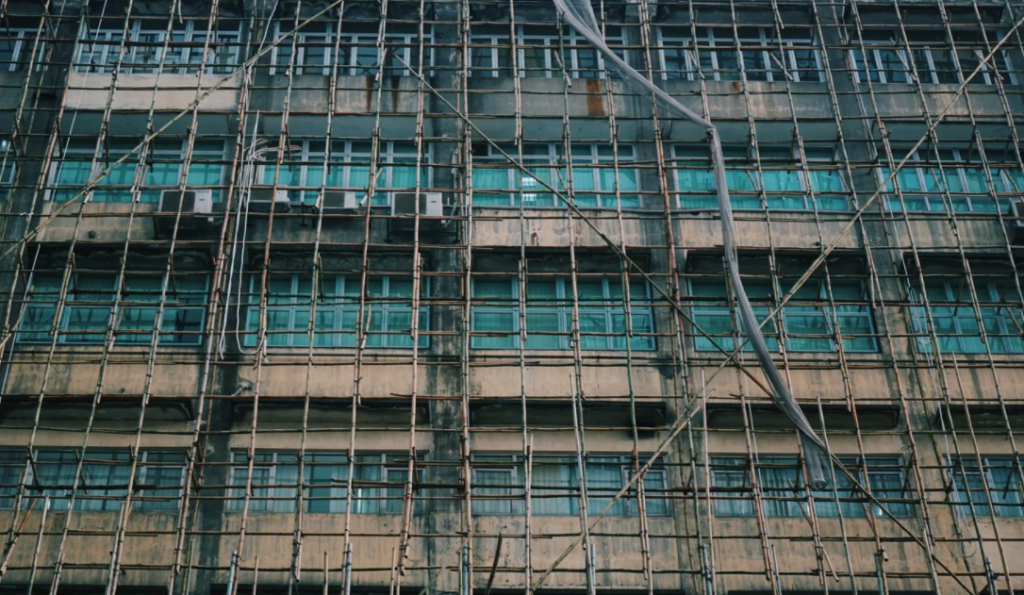 From new apartments to renovated office blocks, bamboo scaffolding can be found across the city. Photo: courtesy of Erth Company
"Coming from Hong Kong, I always loved the scaffolding," says 24-year-old Angus Ko Chun-kit. "I think it is a great technique that represents Hong Kong culture. It's cheap. We can use it to build some of the tallest buildings in the world. This is amazing, but I want to share this scaffolding technique with the world."
After reading last year that many of the poles were discarded after a single use, Ko, a University of Hong Kong graduate, resolved to find a way to "reduce the waste [generated] by construction and to turn [bamboo poles] into something fashionable". With the help of his girlfriend, who has an eye for design, he created a canvas shoe that incorporates recycled bamboo insoles.
"A lot of Asian countries have a long history of making shoes from bamboo because it's lightweight, odourless and dry, which are good qualities for shoes. So I thought it would be good if I could turn those bamboo [poles into] cool-looking, fashionable slip-ons," he says, adding that it takes half a square metre of recycled bamboo to create each pair of slip-ons.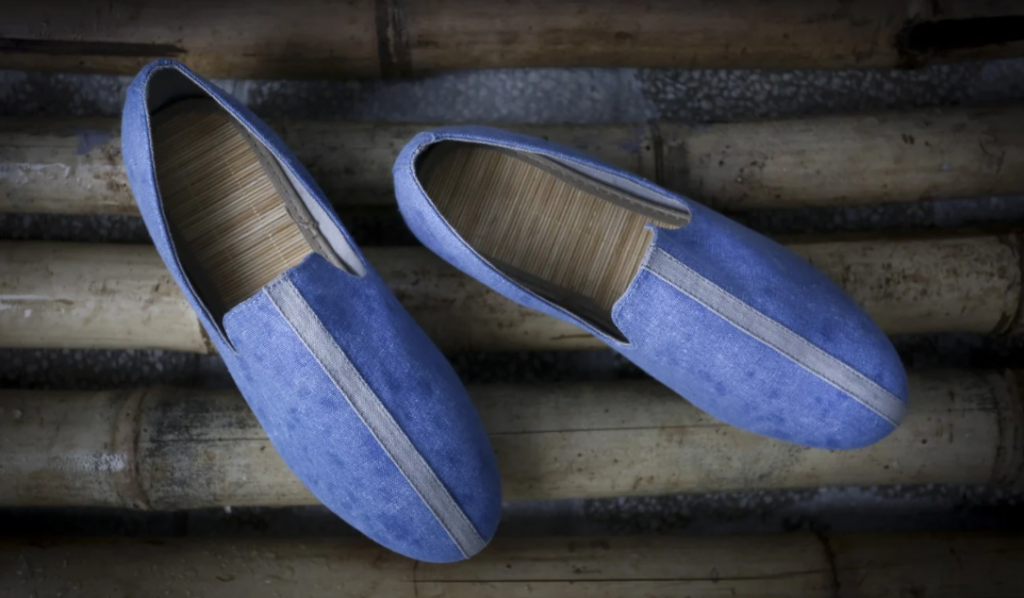 Ko's 'Bam-On' shoes made out of old bamboo scaffolding. Photo: Jonathan Wong
The idea is part of a global fashion movement known as wearable waste, in which clothing is created using waste materials that would otherwise be thrown out. The concept is popular abroad, but only now seems to be gaining traction in Hong Kong.
If we use waste, we can reduce waste.

Ko collects the used bamboo poles for free from a local construction company once it has finished a project. He transports them to his manufacturer in China, where production is cheaper. There, the poles are cleaned, disinfected and laminated into insoles.
Ko is convinced that sustainable concepts such as wearable waste are the future of fashion. In less than a year, his initial concept has become a reality. After experimenting with five different prototypes, he launched his final design, "Bam-On", under the name Erth Company, on crowdfunding site Kickstarter. He was able to raise more than HK$53,000, enabling him to go into production last month.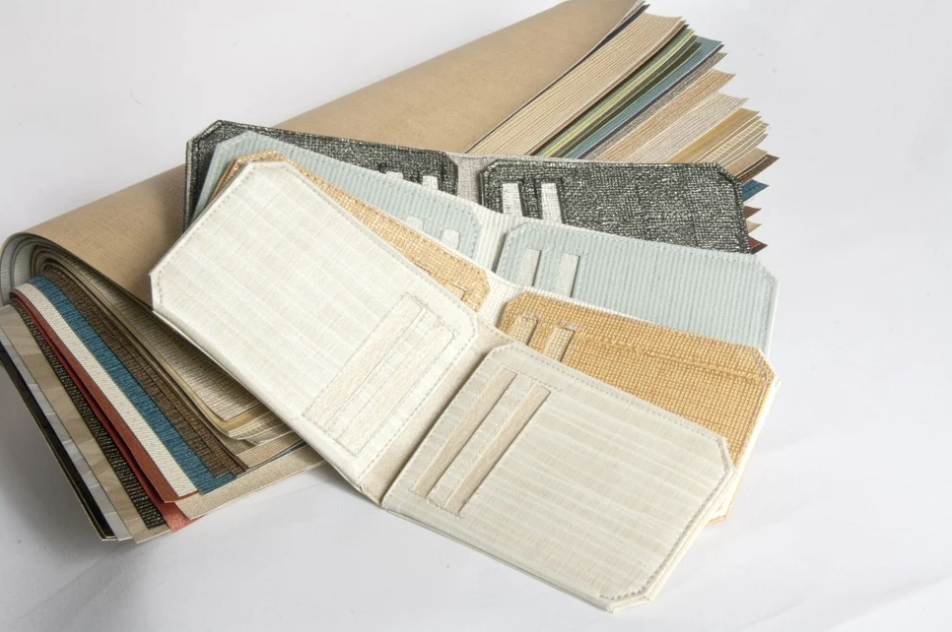 Wallets made out of recycled wallpaper by upcycling product designer Kevin Cheung. Photo: Kevin Cheung
Overseas, some of the biggest players in fashion are helping to lead the wearable waste charge. Ko initially drew inspiration from Adidas and its line of shoes made out of plastic bottles collected from the sea. Adidas got even more serious about sustainability earlier this year, releasing three new pairs of trainers made out of yarn spun from ocean waste.
In July, Nike unveiled its jerseys for the coming NBA season that contained recycled material. The new jerseys, for all 30 teams, will be made partly out of recycled plastic bottles, with up to 20 bottles going into each uniform. This comes after Nike used recycled plastic bottles to make uniforms for the US women's soccer team in 2015, using 18 bottles in each full set of jersey, shorts and socks.
Since 2010, Nike says it has "diverted more than two billion plastic bottles from landfills into recycled polyester".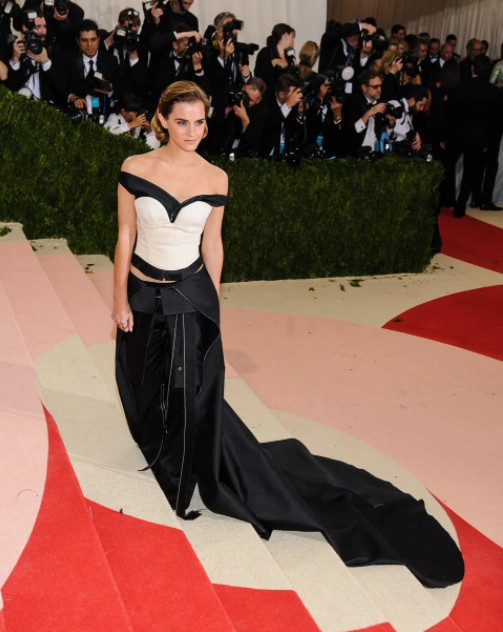 Emma Watson in a gown made out of recycled materials at the Met Gala in New York last year. Photo: Alamy
Star power has also got behind the movement. British actress and ethical fashion supporter Emma Watson wore a Calvin Klein gown to the annual Met Gala in New York last year that was made out of recycled materials, including plastic bottles. She posts other sustainable looks on her Instagram account, The Press Tour, detailing the ethical origins of each outfit.
Closer to home, Kat Ling Ching-yin, founder of Hong Kong design brand Alchemist Creations, has been turning soft drink cans into watches for the last five years. Ling's aim is to turn "neglect into shine" – using the bottom of the cans for watch faces and recycled leather for the straps. She also uses what is left from the cans to make large art installations.
"Hong Kong people are not used to recycling our waste," she says. "We need to pay more attention to this environment."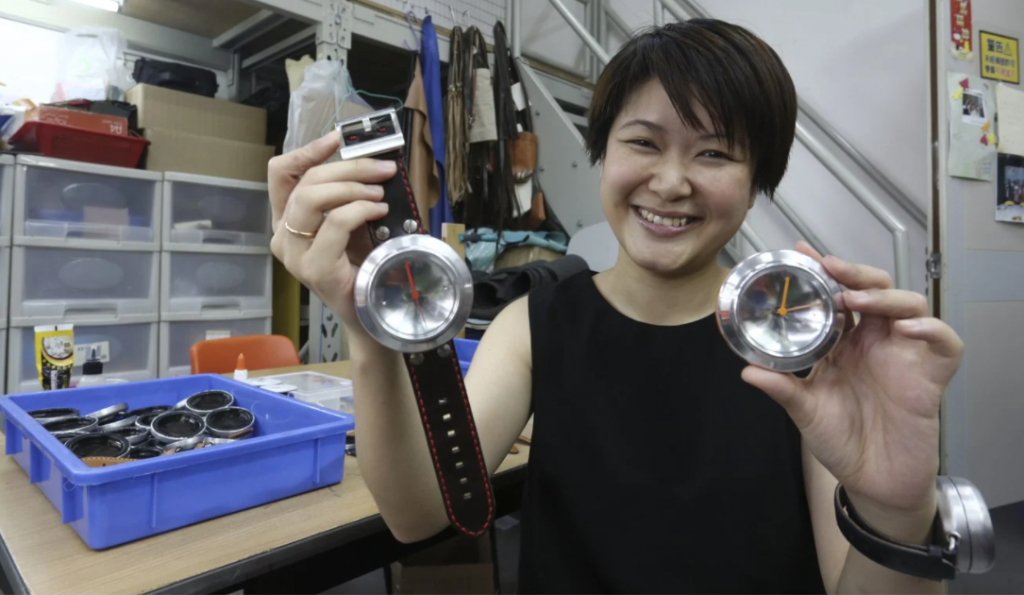 Kat Ling, founder of Alchemist Creations, with watches made out of old soft drink cans. Photo: Jonathan Wong
Since 2012, Ling has recycled more than 30,000 cans that she has collected from local restaurants. She says designers themselves are some of the worst culprits when it comes to waste, but this is driving some to adopt better practices. "We want to reduce waste because from our past experience [as designers], we always use a lot of materials for testing, for product development," she says. "If we use waste, we can reduce waste."
Ling produces her watches with the help of 15 employees from a social enterprise workshop for people with disabilities. The workshop, in Tseung Kwan O, a new town in Hong Kong's New Territories, is run by a local NGO. Transforming each can into a gleaming watch takes up to two hours as the cans are shined, cleaned, cut and imprinted, and the leather meticulously sewn.

A worker sews the recycled leather strap of one of Alchemist Creations' watches. Photo: Jonathan Wong
Ling's scarred hands are witness to her labour of love working with aluminium, which is a beautiful, yet also sometimes brutally sharp, material. However, since she has gone into production, she has been able to develop machinery to help safely create the watches.
Ling has sold more than 5,000 of the funky, wide-faced timepieces, with her products available online and in boutique stores in Hong Kong, mainland China, Taiwan, Japan and the US. Now she makes two different watch-face sizes and has 30 different dial designs. Her sustainable watch design won a prestigious Red Dot Design award in 2013 and in November she will open her first retail space at PMQ, a hub for Hong Kong's creative industries in the city's Central district.

Some of Alchemist Creations' different watch designs. Photo: Jonathan Wong
Ling says the biggest roadblock for young sustainable-fashion designers in Hong Kong is the market. "In Hong Kong not many people know the value of design," she says.
This view is echoed by experienced upcycler and product designer Kevin Cheung Wai-chun. Cheung has been giving used goods a second life for seven years now, turning used rice cookers into bike bells, wallpaper into wallets, and coffee beanbags into totes. He says young upcycling designers in Hong Kong not only have to struggle with high rental and manufacturing costs, but also face an uphill battle trying to change the traditional "Chinese mindset".
"For Chinese, using a second-hand [object] is kind of bad luck. It is very traditional thinking, but it still exists," he says. "People are also concerned about hygiene. But I think it is very important for people to get used to this concept and build up the trust that second-hand materials can be very clean and very useful."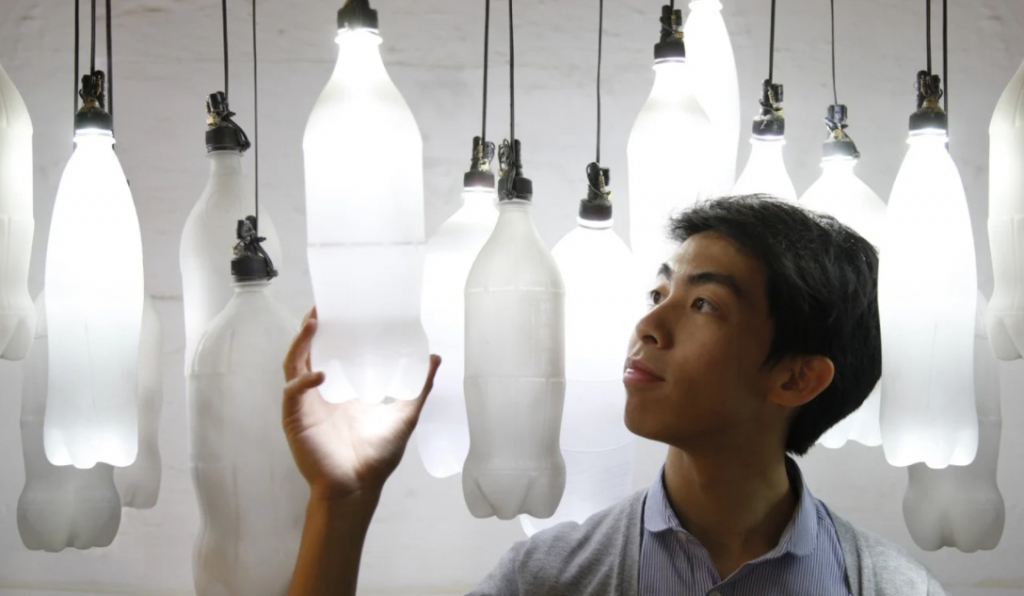 Cheung with his installation Bottle Chime, made up of waste PET bottles that are pressurised with air to create a glass-like sound when bumping into each other. Photo: Kevin Cheung
A graduate of the Hong Kong Polytechnic University School of Design, Cheung says that young Hongkongers are starting to open up to the idea of buying products containing second-hand materials, whereas "for the older generation it is so hard to change their mind".
Hong Kong is already so small and the landfills take up so much space. [Young designers need to] help promote upcycling and social entrepreneurship to our generation

The Wan Chai-based designer will be speaking about ways to give new life to waste at Hong Kong's first Fashion Summit this week. Taking place on September 7 and 8, the conference will explore future possibilities for fashion sustainability in Hong Kong, with industry leaders, environmental NGOs and academics offering their views.
Cheung says in a busy city of seven million people, big fashion brands generally win out over small, local designers. "It's very hard to sustain and to do what you believe in as a designer on your own," he says. "The general public don't treasure or don't realise that design has value and it is something you have to pay for."
With more design graduates thinking sustainably, the Hong Kong fashion industry could shift towards ethical dressing. For Ko, who hopes to one day sell his shoes in Hong Kong stores, it all comes down to young designers driving home their "new perspective" on wearable waste.
"Hong Kong is already so small and the landfills take up so much space. [Young designers need to] help promote upcycling and social entrepreneurship to our generation," he says. "Wearable waste is still a relatively new concept and it definitely needs more young designers to take part in the movement."
#Alchemist Creations
https://www.scmp.com/lifestyle/fashion-luxury/article/2109864/hong-kong-designers-turning-waste-sustainable-fashion-and