HKSEC Academy: Women in Entrepreneurship: Story of Lensational
HKSEC Academy: Women in Entrepreneurship: Story of Lensational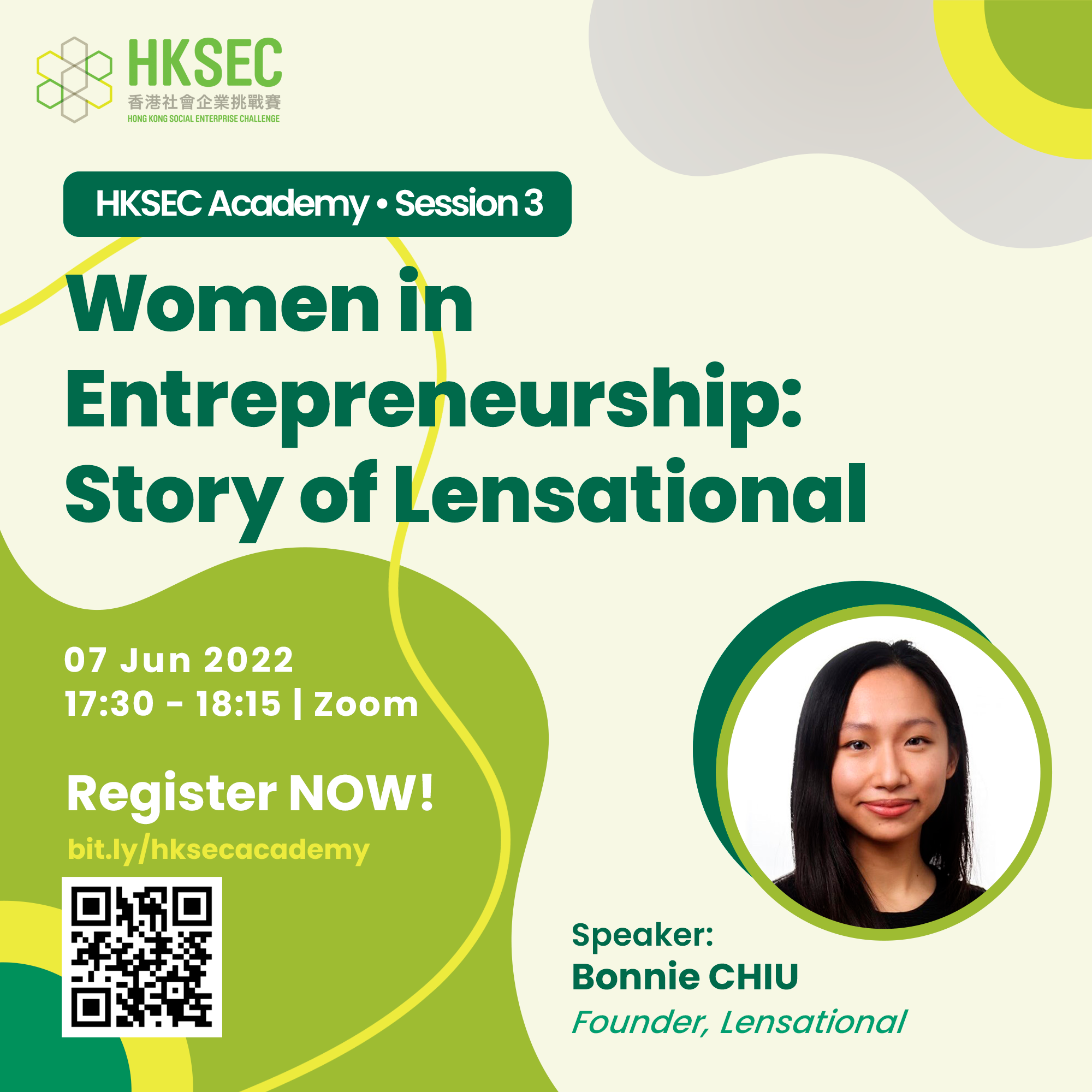 The HKSEC Academy aims to support the growth and professional development of HKSEC alumni and other young social innovators. In this series of 12 webinars, the participants would be able to update their knowledge and deepen their understanding in wide ranging topics such as Fintech, Social Impact Measurement and Climate Change etc. This knowledge as well as skills could further equip them for their social innovation and entrepreneurship journey.
The 3rd webinar "Women in Entrepreneurship: Story of Lensational" given by Bonnie CHIU, Founder, Lensational would take place from 17:30 to 18:15 via Zoom on 7 June 2022. Bonnie will share the challenges of promoting the concept of Women Empowerment to different countries and the ways she tackled those challenges. She will also share how COVID-19 has impacted on the way she works with Women Empowerment and her future vision of it. If you are interested in learning more about this topic, don't miss your chance to register for this session!
We can't wait to see you at the webinar! Click here to register now:
▶▶ https://cloud.itsc.cuhk.edu.hk/mycuform/view.php?id=1553746
Session 3: Women in Entrepreneurship: Story of Lensational
Date: 7 June 2022 (Tue)
Time: 17:30 – 18:15
Format: Zoom
Language: Cantonese/ English
Speaker:
Bonnie CHIU
Bonnie Chiu is an award-winning social entrepreneur, gender equality advocate and social impact consultant. Recognised as a Forbes 30 Under 30, she is a Senior Contributor on Forbes writing on gender and diversity and has been invited to speak in 17 countries. She is the Founder of social enterprise Lensational, which equips marginalised women with photography and storytelling training, which has scaled to over 1,000 women in 23 countries. She is also the Owner and Managing Director of The Social Investment Consultancy (TSIC), a global network of consultants specialised in impact measurement and social investment strategies. She has been dedicated to promoting diversity and inclusion in the impact investing industry: such as authoring an Investor Toolkit with a focus on girls and young women funded by DFID, founding the Diversity Forum for Inclusive Social Investment, and coordinating the Women in Social Finance network.
She has received multiple accolades for her work, named Asia21 Young Leader by Asia Society, a Forbes 30 Under 30 Social Entrepreneur, and winning the Asian Women of Achievement Award. She was also featured as the Ambassador for Sustainable Development Goal 5, for Gender Equality, in the Lavazza Calendar.