HKSEC Academy: A Brief Introduction To Impact Investing
HKSEC Academy: A Brief Introduction To Impact Investing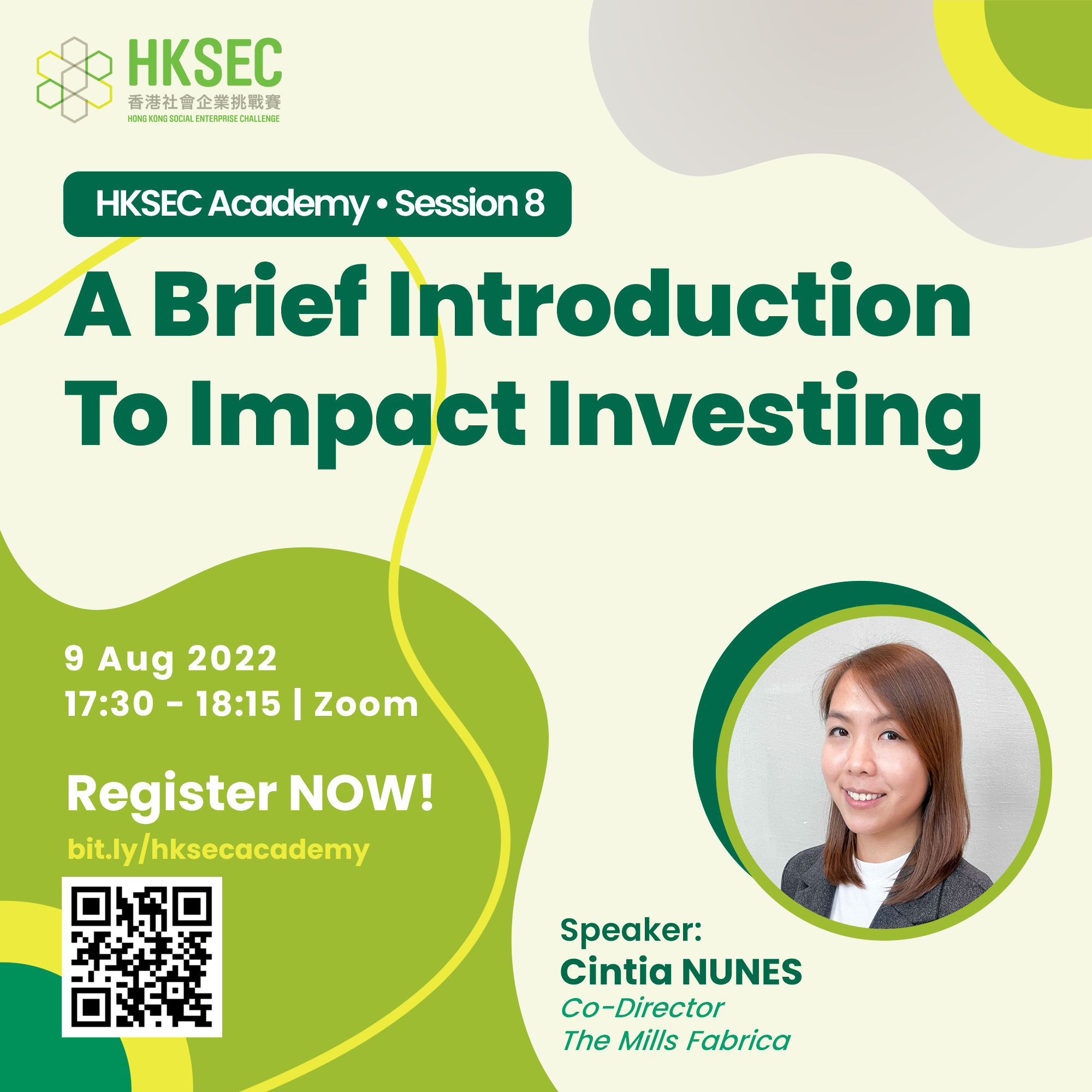 The HKSEC Academy aims to support the growth and professional development of HKSEC alumni and other young social innovators. In this series of 12 webinars, the participants would be able to update their knowledge and deepen their understanding in wide ranging topics such as Fintech, Social Impact Measurement and Climate Change etc. This knowledge as well as skills could further equip them for their social innovation and entrepreneurship journey.
The 8th webinar "A Brief Introduction To Impact Investing" given by Cintia NUNES, Co-Director, The Mills Fabrica, would take place from 17:30 to 18:15 via Zoom on 9 August 2022.
Investors around the world are making impact investments to unleash the power of capital for good. What exactly is impact investing and why is it important to social enterprise? And what is the relationship between impact investing and ESG? If you are keen to learn more about this topic, don't miss your chance to register for this session!
We can't wait to see you at the webinar! Click here to register now:
▶▶ https://cloud.itsc.cuhk.edu.hk/mycuform/view.php?id=1553746
Session 8: A Brief Introduction To Impact Investing
Date: 9 August 2022 (Tue)
Time: 17:30 – 18:15
Format: Zoom
Language: Cantonese
Speaker:
Cintia NUNES | Co-Director, The Mills Fabrica
Cintia Nunes is the Co-Director of The Mills Fabrica and focuses on leading Fabrica to become the go-to platform for sustainability, impact and innovation in the techstyle (technology x lifestyle) and agrifood tech space.
Prior to joining Fabrica, Cintia worked in strategy, insights and marketing at Procter & Gamble where she focused on consumer behavioral assessment and formalizing business strategies for more than 10 brands in Hong Kong and Taiwan. She then pivoted to startups and became the Hong Kong Market Lead at Grana, a Series A online fashion start-up where she helped drive brand awareness, customer acquisition, retail and customer experience. Subsequently, she joined Dream Impact as the Chief of Strategy & Growth, where she helped to pivot their business model and soon became one of the prominent social impact ecosystem builders in Hong Kong through advocacy, bridging of resources and strategic partnerships.
With strong passion in driving social impact and systemic change, she is a strong advocate in cross-sector collaborations and has supported numerous social businesses in their growth strategies and social innovation competitions as judge, mentor and advisor. She holds a BSc Economics degree from the University College London.